AUTONOMOUS SECURITY ROBOTS
ROBOT OVERVIEW
---
Global Protection has been chosen as one of a select few authorized providers of Knightscope autonomous security robots Costs for these systems is typically about half the cost of what a human security officer costs; and they don't sleep. These robots can be deployed in stationary locations (ingress/egress points), indoors, or outdoors. They can function fully autonomously and be monitored in real time via the integrated KSOC cloud based portal. Operating alone or in conjunction with a human security teams, Knightscope security robots are the force multiplier that fill gaps in security and keeps businesses and communities safe.
Global Protection Agency Llc provides these autonomous security robots throughout the continental United States via our partnership with Knightscope. Features Include: Security Upgrades
Assignable Routes and Waypoints
Quad Automatic License Plate Recognition
Parking Enforcement Analytics
Strobe Light and Color-Configurable LED Lights
Custom Broadcast Messaging
Two-Way Live Intercom
Live Audio and Autonomous Conversation Capabilities
Human Detection
Automatic Signal Detection
Thermal Scanning
RFID Badge Reader
AV Upgrades
360 Degree On Demand Live Video
Up to 4k Ultra HD 360 Degree Video
Up to 30 days Data Storage
Cellular Connectivity with Data Plan
Unlimited Live Video Streaming (with WiFi connection)
Support Services
Nationwide Deployment Capability with Setup and Configuration
24×7 Operation with Autonomous Charging
Custom Decals and Markings
Standard Monitoring Area Signage
Browser-based User Interface (KSOC) for Multiple Authorized Client Users
24/7 Network Monitoring and Support
On-Site Maintenance and Support
Forensics Support
Unlimited Software and Firmware Upgrades
Eligible Hardware Upgrades
---
VIDEO AND MEDIA
---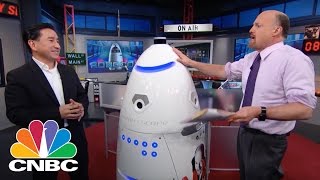 ---
"VEHICLE" ROBOT IN DEVELOPMENT
---
The autonomous security vehicle, K7, is currently in development. The vehicle will be capable of operating outdoors and in varying environments.
---
---